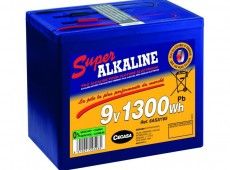 CEGASA

- CEGASA

CEGASA fence batteries, thanks to their high and constant voltage, provide electronic systems with battery-powered electric fences and the following advantages:
Constant energy - more reliable.

Higher energy - more powerful.

Lower consumption - more economical.
CEGASA AIR-ALKALINE batteries represent a technological innovation for the most recent electrical safety devices.
Environmental preservation - Mercury and cadmium free
CEGASA AIR-ALKALINE batteries protect the environment. They do not contain mercury or cadmium and they generate lower volumes to be eliminated (see Figure 4).

They are manufactured in accordance with the procedures of the ISO 14001 Environmental Management System.
Reliability
Controlled and approved by numerous national and international authorities for their use on electrical safety devices, they comply with all the conditions required by the European Union and by other international authorities.

They are manufactured under ISO 9001 certification of the Quality Assurance System.
Guarantee - Excellent charge retention
After one year of storage, decrease of 5% of their capacity.

After two years of storage, 8% reduction in their capacity

.