Battery World |
Small Batterie
and
Battery Charger
- Batteries and Battery Chargers -

Battery World proposes you a full range of batteries of any kind: bouton cell, watch cell, lithium battery, rechargeable battery, long-life battery, hearing aid battery, battery for toys, for alarms, for smoke detectors and special batteries at discount price!

Whatever the Battery you are looking for, you will find it in our retailers!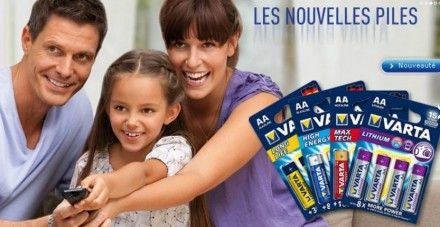 Discover our full range of
batteries
and cells
AA Battery, AAA Battery and Special Battery
VARTA SUPERLIFE


VARTA Saline batteries meet low and basic energy needs. This battery technology is practically no longer used. Batteries...
VARTA LONGLIFE


VARTA LONGLIFE alkaline batteries meet low but constant energy needs. Suitable for alarm clocks, clocks, torches, ...
VARTA HIGH ENERGY


VARTA HIGH ENERGY Batteries meet high energy needs. HIGH ENERGY is the most powerful VARTA battery. It was developed ..
VARTA MAXTECH


VARTA MAX TECH batteries are designed for the high energy needs of your digital applications, flashes, joysticks, cameras, etc. VARTA MAX TECH ...
SPECIFIC BATTERIES


VARTA also has a range of specific batteries for professional use. These batteries can equip light triangles, site lamps, or..
Rechargeable Battery and Lithium Battery
RECHARGEABLE BATTERIES


VARTA, through its range of rechargeable batteries, offers a full range of powerful Ni-MH batteries for all your devices.
Conventional accumulators discharge during ...
LITHIUM BATTERIES


VARTA has a complete and efficient Lithium range. VARTA lithium batteries are suitable and recommended for high performance applications. Technology...
BATTERY CHARGERS/ AUXILIARY CHARGERS

VARTA offers a full range of battery chargers and auxiliary chargers that focus on the most important charging times and features to help you ...
EASY LINE TORCH


The Easy line range is a range of everyday torches with 1 or 2 characteristics, with bulbs or LED 5 mm, for the home, the garden, the garage or the car ...
POWER LINE TORCH


The Power Line range is a range of quality torches with 3-4 characteristics with multiple LEDs or high performance LEDs for outdoor activities, ...
PROFESSIONAL TORCH


The Professional range is made up of professional torches with 4 or more characteristics, with high-performance LEDs, for DIY or work purposes. Perfectly adapted ...
ANSMANN CHARGERS


Ansmann has a full range of ultra fast smart chargers 100/240 V AC 50/60 Hzc.

ANSMANN
UNIVERSAL CHARGERS


Ansmann has a complete range of universal chargers for cameras, videos, telephony and GPS.

The range consists of a large number of ...
ADAPTERS -MULTI VOLTAGE / POWERBANK


Ansmann also offers a wide range of universal power supplies and converters.
PORTABLE LITHING/ MULTIMEDIA SUPPORT


Ansmann has developed in recent years a complete range of small portable lighting devices as well as multimedia supports (phone-tablet).


Ansmann has grown over the years to become one of the best known manufacturers of mobile energy. This German company has grown steadily and has become one of the world leaders in its field. The keys to their success? High performance products at a fair price and optimized local service.

BATTERIES
From toys to digital cameras, remote controls, hearing aids and more, the new VARTA batteries provide the energy you need. Clearly identifiable icons allow you to easily find the right battery for your needs.