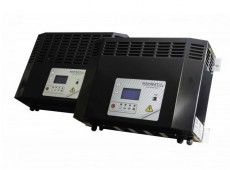 S.P.E ELECTRONICS

- GREEN2-GREEN4

Specially designed for wall mounting, the chargers in the GREEN2 and GREEN4 ranges are the latest high-frequency charger models from SPE.


The range consists of 25 models with a wide variety of output voltages and load currents.
All these models are single-phase and the active PFC (Power factor corrector) allows a lower input current for greater flexibility. ( -30%).

All GREEN2 and GREEN4 models offer a complete digital display of the charge data (Charge current, Battery voltage; AH absorbed by the battery, charge cycle time, Charge profile).


Complete and accurate data for the last 230 charge cycles can also be easily downloaded for analysis if necessary.


They have standard load curves: IUIa, IUUo, Iua, Iuo, other curves on request can be created.