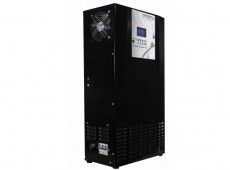 S.P.E ELECTRONICS

- GREEN6-GREEN8

The various chargers in the GREEN6 and GREEN8 range are designed for use on industrial equipment with very high capacity batteries.

Slightly larger than the GREEN2 and GREEN4, they are still very compact compared to conventional 50Hz chargers and are designed to be also fixed to the wall.

The range includes many three-phase models (three inputs) with a wide variety of output voltages (24V - 80V) and load currents. They can charge batteries ranging from 260 AH to 1400 AH.

They have standard load curves: IUIa, IUUo, Iua, Iuo, other curves on request can be created.

As with the GREEN2 and GREEN4, all the GREEN6 and GREEN8 models offer a full digital display of the load data. (Charging current, Battery voltage; AH absorbed by the battery, charging cycle time, Charging profile).

Complete and accurate data for the last 300 charge cycles can also be easily downloaded for analysis if necessary.

The GREEN6 and GREEN8 models can be equipped with an integrated air pump for use with an AIRMIX system if necessary.

Finally the whole range of GREEN6 and GREEN8 chargers is based on a modular construction system, which makes chargers easy and quick to maintain.