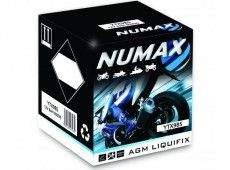 NUMAX

- NUMAX PREMIUM AGM LIQUIFIX

The range NUMAX PREMIUM AGM LIQUIFIX is composed of AGM batteries with acid pack.


Advantages:
Robust batteries designed to resist to vibrations.
High Quality.
Maintenance-Free – without subsequent filling.
Compliant with the standard JLS.
Embedded with technology AGM (Absorbent Glass Material) that allows many charge-discharge cycles.