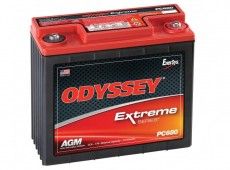 ODYSSEY

- ODYSSEY

With a resistant structure and the technology TPPL, ODYSSEY® Extreme Series TM batteries have been designed for a life expectancy of 8 to 12 years and a service life of 3 to 10 years. Even at very low temperatures, ODYSSEY® Extreme Series TM are able to provide starting power impulsions of 2.250 amperes to engines for more than 5 secondes, which is 2 to 3 times more than standard batteries. Moreover, these batteries are able to bear 400 charge-discharge cycles up to an 80% discharge rate.

Advantages
Pure Lead.
Higher life expectancy.
Long storage life with fast charging enabled and Maintenance-Free.
Smaller and lighter than standard batteries.
Starting power twice higher than standard batteries.
High résistance to vibration and shocks.
Resistant to extreme temperatures.