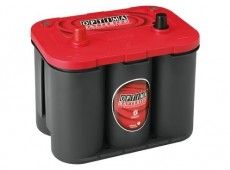 OPTIMA

- OPTIMA RED TOP

The batteries OPTIMA® REDTOP® provide an outstanding power as from the first second of start-up. These batteries RED TOP benefit from the technology SPIRALCELL® and perfectly works for applications where the start-up is critical. Nowadays, the batteries OPTIMA REDTOP are used for any kind of application and in any vehicle, car, tractors, construction machines, emergency vehicles, generator sets... The auto-discharge rate of batteries REDTOP is extremely low, which means they are still extremely performant even if they are stored without being charged for a while (months!).
| | | | |
| --- | --- | --- | --- |
| | | | |
| RTS 2.1 | RTS 3.7 | RTS 4.2 | RTC 4.2 |
Batteries OPTIMA® REDTOP® last three times longer than standard batteries, they have a resistance to vibration up to 15 times higher than standard batteries end never leak. Its recharge capacity is exceptionally fast which allows for a quick re-establishment of the voltage thanks to short operating cycles.
Advantages:
Outstanding starting power.
Outstanding resistance to vibrations.
Extreme temperature resistance.
Extremely fast charging time. Optimal performance in relation to weight and volume.
Can be installed in any position.