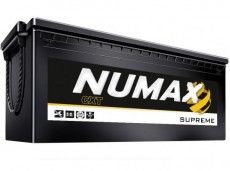 NUMAX

- NUMAX SUPREME

The range NUMAX SUPREME is a small range for high performance and high-tech vehicles such as lorries with fridge, fire trucks and busses. All our batteries are made with the special alloy CA/CA. These batteries are 100% Maintenance-Free and have a charge indicator.

Advantages:
Optimal Start-up in cold weather.

High number of charge-discharge cycles.

Technology using special alloy CA/CA which strengthens the battery resistance to corrosion and reduce self-discharge.

Ready to use.

100% sealed batteries.

Charge indicator.