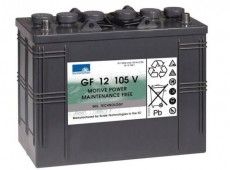 SONNENSCHEIN

- SONNENSCHEIN GF-V

The Sonnenschein range of GF-V monoblock batteries is particularly suitable for industrial applications with high commitment such as cleaning machines, pallet trucks, wire-guided vehicles, lifting platforms, electric cars and buses.

Advantages:
Battery technology: VRLA waterproof lead.

Maintenance-free (no

refill

during the entire life of the battery).

Very high intrinsic safety.

Robust, safe and reliable.

Low self-discharge rate.

700 cycles according to standard IEC 60254-1.