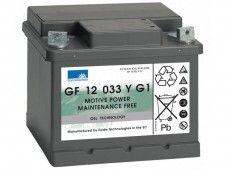 SONNENSCHEIN

- SONNENSCHEIN GF-Y

The Sonnenschein range of GF-Y monoblock batteries is particularly well suited for leisure and mobile applications (wheelchairs, scooters, golf carts and electric boats).

Advantages:
Battery technology: VRLA waterproof lead.

Maintenance-free (no filling during the whole life of the battery).

Very high intrinsic safety.

Robust, safe and reliable.

Low self-discharge rate.

450 cycles according to standard IEC 60254-1.