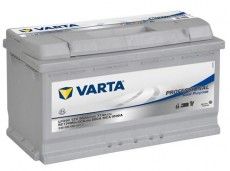 VARTA

- VARTA PROFESSIONAL

VARTA PROFESSIONAL

Batteries are instead

DUAL

batteries (Starting, Cycling), and are designed to provide energy to both marines crafts such as electric boats, sailboats and motor boats, but also for campers and motor homes of any kind and

brand. With these batteries, you will have a reliable source of energy for both critical equipments (lighting, fridges, safety equipments) but also for comfort devices (TV, computers,...).

Advantages:
Innovative Plate Technology: cycling resistance up to two times more effective.
Very low self-discharge rate: ideal for a seasonal activity.
Ergonomic handles: easy transportation.
Explosion-proof tablets: for an optimal safety.
High energy performance: compatible with Dual Power applications (or as a mixed starter and service battery).
Labyrinth cover: Maintenance-Free.
Closed system: leak-proof (also in the event of a short tilt up to 90°).