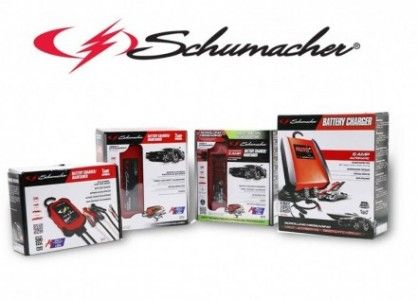 SCHUMACHER

- Battery chargers

Schumacher has developed a patented technology: Speed ​​Charge, it guarantees a battery charge as fast and safe as possible - up to 3 times faster than traditional chargers. Designed to charge most types of batteries (AGM, Gel, Calcium / Wet, Start & Stop). The SPI3 is also compatible with lithium-ion batteries.

The range includes a digital display with multilingual scrolling instructions (except SPI1 and SPI2), insulated pliers and eyelet accessories (except SPI15 and SPI1224V), a fixing hook and shockproof protections.

Protection against reverse polarity, thermal leakage and automatic shutdown are standard equipment. The SPI will charge the batteries with a voltage as low as 0.5V. In comparison, most competitive chargers will only charge batteries as low as 4V. Their ventilated housing compensates for the extra heat and extends the life of the chargers.

SPIs are energy efficient and meet the highest standards in the industry. They have a multi-stage charge for more precision and security. "Float Mode" monitoring ensures that the battery is fully charged and ready to use for long periods of time.