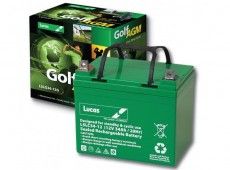 LUCAS

- LUCAS AGM CYCLIC GOLF

This LUCAS range is composed of waterproof stationary batteries. These Lucas products are designed for a large number of application, including golf carts. If you are looking for a reliable source of energy, you can trust LUCAS GOLF AGM batteries.

The ENRGY behind your drive.
| | | |
| --- | --- | --- |
| | | |
| LSLC22-12G | LSLC26-12G | LSLC34-12G |
Advantages:
Sealed and Maintenance-Free.
Long life expectancy - Low self-discharge rate.
Both series and parallel applications.
Easy to use, they are categorized as safe products.
Compacts - High energy density allowing for higher power / volume and power / weight ratios.
High discharge abilities.
Wide operating temperature range.
Robust construction, strong resistance to vibrations.