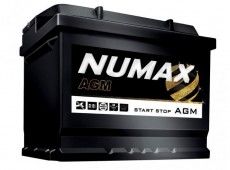 NUMAX

- NUMAX AGM

The NUMAX AGM is a short range of batteries designed for vehicles with technology START & STOP. With the NUMAX AGM range we cover all applications, for both European cars and Asian cars. The NUMAX AGM range, thanks to its top of the line technology meets the highest specifications of all main car manufacturer in the world.

Advantages:
Original Equipments Quality and Technology.

Designed for vehicles with Start-Stop systems using advanced regenerative breaking systems.


Strong résistance to charge-discharge cycles (three times more resistant compared to traditional batteries).

higher resistance to vibrations.

100% maintenance-free.

No liquid or gas leakage.