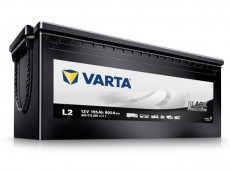 VARTA

- PROMOTIVE BLACK

The range Promotive Black perfectly fits old vehicles and those that do not require an huge energy source, including bulldozers, minivans and small tractors. Thanks to its hybrid technology tested and proven, Promotive Black offers great energy capacity. Under normal condition of us, it is completely Maintenance-Free, with contributes to consistent cost savings for your company.

Advantages:
Perfect for old vehicles or for those with low energy consumption (bulldozers, minivan, smal tractors,...).

Standard OE technology, compliant to european standard EN2.

Low self-discharge rate thanks to the technology Calcium-Silver, up to 12 months of storage.