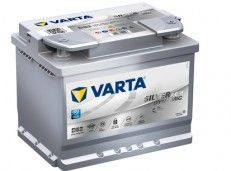 VARTA

- SILVER DYNAMIC AGM

Upgrading your car with a VARTA SILVER DYNAMIC AGM battery, you will simply get the best. Select an AGM Battery with advanced technology and benefit form outstanding performances that are capable to power vehicles and devices with high-energy consumption. VARTA SILVER DYNAMIC AGM batteries have three times more endurance than a normal battery. They are optimal for advanced Start-Stop systems for which the battery needs a rapid recharge using advanced regenerative breaking systems. Finally, you can be sure these made in Germany batteries will fulfill the highest quality standards of the market.

Advantages:
Extended service life compared to conventional batteries.


Designed for vehicles with Start-Stop systems.

Embedded with technology VARTA AGM that grants consistent high performance for vehicles equipped with many devices.

Embedded with the technology PowerFrame® for unmatched starting power and reliable performance.